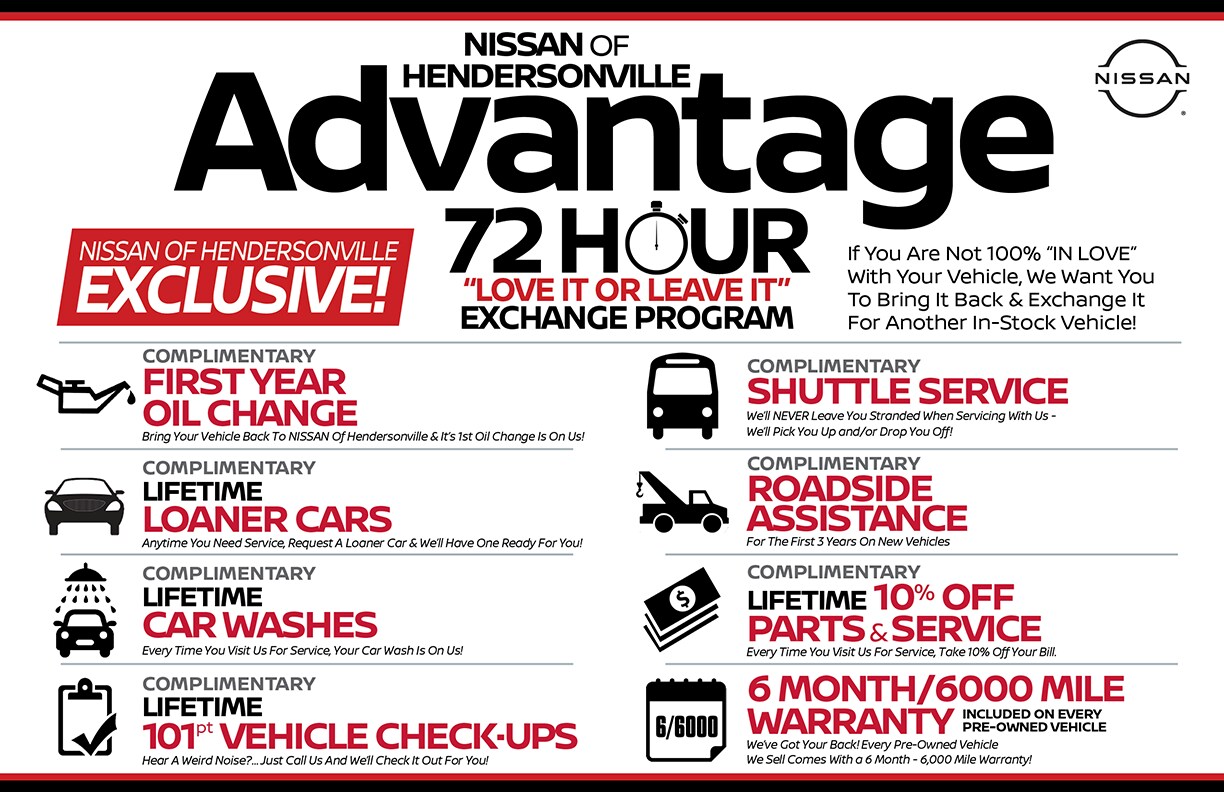 Questions About The Nissan of Hendersonville Advantage? Please Complete This Form
OR CALL 833-378-1207
LOVE IT OR LEAVE IT EXCHANGE: Vehicle must be returned within 3 days of delivery date with no more than 150 additional miles and no alterations or damage of any kind- customer can exchange vehicle one time, for any vehicle in dealer stock of same value. Additional charges will apply for trim, model, or option changes. Oil Change: includes oil change at manufacturer recommended interval. Valid 1 Year from date of purchase; includes up to 5 qts. of manufacturer approved oil, new oil filter, labor and disposal fees; retail value varies from $39.95 to $89.95; excludes diesels & specialty vehicles; non-transferable. Loaner cars: available with a scheduled service appointment for repairs over one hour. Excludes oil changes; rotate only. Based on first come/first served basis. Car Washes: available with most scheduled service visit; includes wash only. 101 Pt Check-up: with every service visit; the Service Department will check your vehicle to make sure components such as brakes, windshield wipers, lights, and much more are in proper working order and that you won't experience any unexpected problems. Shuttle Service: with scheduled service within 10 miles of dealership between the hours of 8am and 6pm. Roadside Assistance: provided by Nissan on new vehicles for the first 3 years/36,000 miles. 10% Off Parts/Service: Max. of $100. Excludes Tires. Cannot be combined with any other offer. 6 Mo./6000 Mi warranty available on select pre-owned in stock inventory.  All of the above are complimentary with the purchase or lease of any vehicle. See Dealer for complete program details.